Aim
The aim of the ESSR young club is to motivate young radiologists, residents in radiology, PhD students with a relationship to imaging and medical students to develop and increase an interest in musculoskeletal imaging. This society relies on young motivated members, and it is hoped that this club will act as a creative platform for new and refreshing ideas. The society will help support young members, encourage the development of educational material and, through our social media platform, improve networking.
Addressed are residents, young fellows (under the age of 35 years), PhD students and medical students.
The ESSR Young Club meets twice per year for a face to face meeting, on occasion of the ESSR and the ECR congress.
All members will receive an invitation to join this meeting and support our activities.
Join and write us
Please fill in this registration form to become a ESSR Young Club member: Registration form
If you wish to contact the ESSR Young Club representatives: youngclub@essr.org
Vice Chairperson
Kitija Nulle, Riga, Latvia
Term of office 2023 – 2024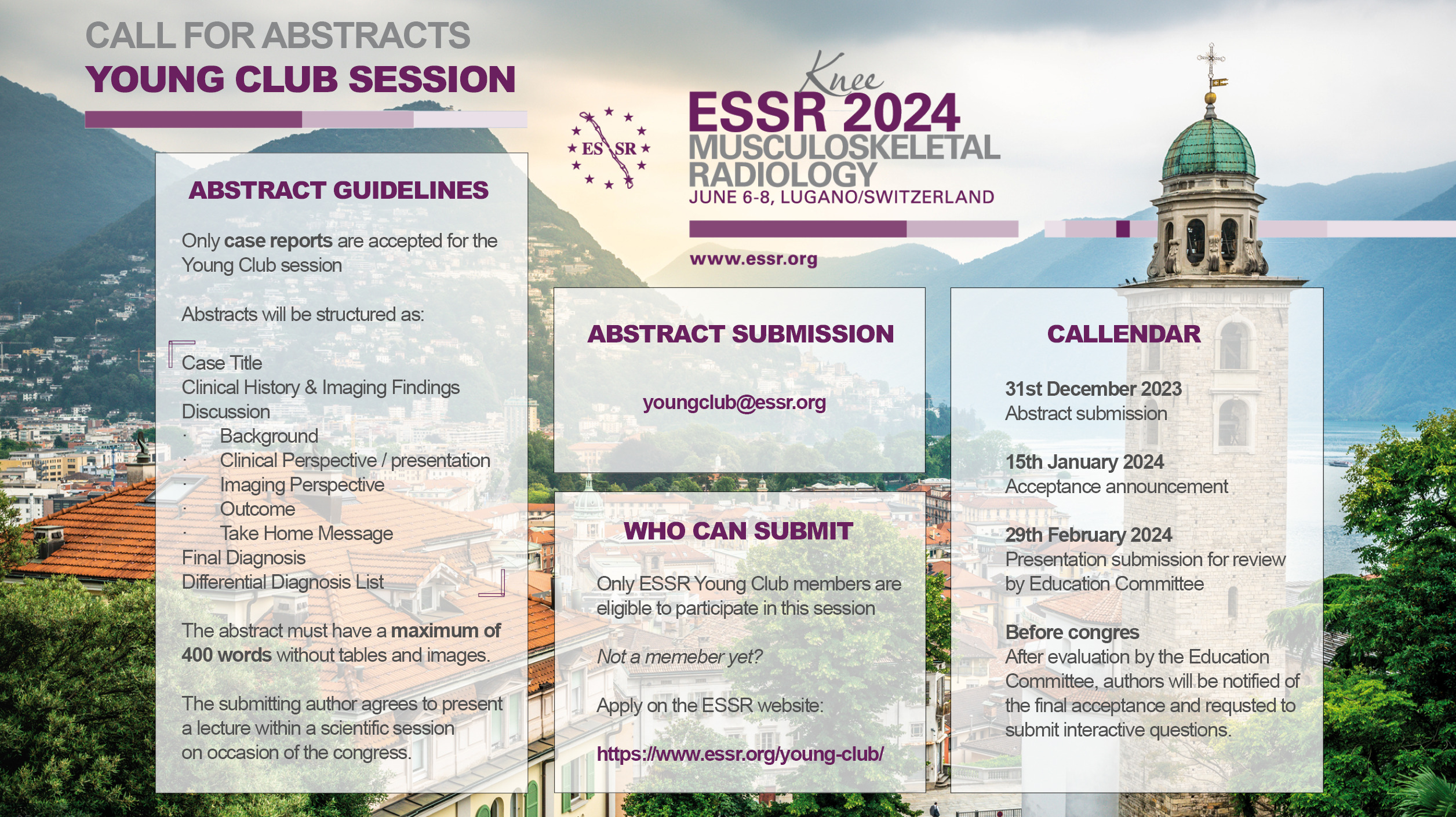 M.AVATAR – Musculoskeletal AVATAR
EDUCATION | RESEARCH | LEADERSHIP
ESSR is investing in the youth and does support training and education of the new generation of MSK radiologists. By intense training during a 4-5 days programme, our society would like to educate and build new future leaders in MSK radiology.
Meet and learn with (former) Executive Committee members
Discuss difficulties and new strategies with experts
Get new insights and meet colleagues from all over Europe
Become future leader in MSK radiology
M.AVATAR Programme Report Vienna, 2023                                    M.AVATAR Programme Report Barletta, 2023
Eligibility
Projects can be proposed by ESSR members in good standing who do not normally exceed 35 years of age. (Researchers who start their career later in life will be considered using their training dates to judge an equivalent period of experience.)
All projects should be mentored by a senior ESSR member who will be in charge of overall supervision of the project.

Each project should have a maximum length of one year although six additional months may be requested.

Each ESSR member can propose only one project per year.
The chief of the department where the work is to be performed should provide confirmation that the young researcher will be allowed to perform the research and that mentoring will be provided when needed. No thematic areas are stipulated. However, the ESSR encourages projects that may have a direct and immediate application in clinical practice.

Originality (15 points) – 30%
Methodology and scientific validity (15 points) – 30%
Importance of anticipated results and transferability to clinical practice (17 points) – 34%
Previous experience on the topic (i.e., previous papers published) (6points) – 6%
Final works will be presented at the first ESSR meeting available. Papers should be submitted to European Radiology and, in case of rejection, to Skeletal Radiology for normal peer-review consideration. Only if rejected by these two journals, the paper can be submitted to other international peer-review journal in English language.
Each paper that will be published using data from the research will include the following phrase among acknowledgments: "This research was partially/totally funded by the Young Researchers Grant awarded by the European Society of Musculoskeletal Radiology".
Funding
ESSR will devolve the sum of up to Euro 7.500,00 to this initiative divided into max three grants of Euro 2.500,00 each. The sum will be awarded directly to the ESSR member and not to his/her department/university.
Grants will be transferred to recipients with the following timescales:
40% when the research begins, as communicated by grant recipient;
30% after six months activity, upon presentation of interim results;
30% when the research will be published in a peer-review journal.
Application
Projects should be written on the two forms provided.
Form A includes the title of the project, keywords, background, rationale, objectives, methods, transferability and impact of results.
Form A must not include any reference to the names of the Young Researcher or Mentor, or any reference to previously published papers by the applicant or applicant's group. Failure to comply with that will result in exclusion from consideration for the Grant.
Download Form A
Form B includes the title of the project, name and CV of the Young Researcher and name and CV of the Mentor.
Download Form B
Forms A and B should be saved in PDF file format and named as Form_A_[titleoftheproject] and Form_B_[titleoftheproject], respectively, and sent to the ESSR Secretary's office (office@essr.org).
Timeline
Send Form A and Form B to office@essr.org
The yearly Application Deadline is April 14
Winners will be notified in advance and are encouraged to participate in the ESSR General Assembly.
Further inquiries should be addressed to ESSR secretary office (office@essr.org).
2022
Staging of avascular necrosis of the femoral head with the use of deep learning (Michail Klontzas)
Application of shear wave elastography in the diagnosis of systemic lupus erythematosus (SLE) (Salvatore Marsico)
Artificial intelligence for early detection of spondyloarthritis in medical imaging: multicentre clinical validation study for development of novel CT algorithms for clinical AI tools (Thomas Van Den Berghe)
2021
MR-guided Cryoablation for the Treatment of Pelvic Pain Syndrome (PPS) (Danoob Dalili)
Characterization of genetic intratumoral heterogeneity of benign and malignant soft tissue tumors for the prediction of the disease prognosis: a radiogenomics study (Alexandra Gersing)
Can MRI-based Synthetic CT, 3DVIBE, UTE and SWI differentiate inflammatory erosions from degenerative erosions in sacroiliitis? (Frederiek Laloo)
2020
Ultra-high field MR imaging of the wrist – A pilot study
Single centre pilot study with 7T MRI in patients with suspected or proven wrist injury (Christophe Schroeder)
Radiomics-based machine-learning classification of cartilaginous tumors of the bone (Salvatore Gitto)
2019
New bone MRI sequences and dual-energy CT for detection of active and structural lesions in sacroiliitis (Min Chen)
Degenerative changes in cartilage after reconstruction of the anterior cruciate ligament on Quantitative Magnetic Resonance 7 T Imaging (Paolo Lombardo)
2018
Shedding light on infrapatellar fat pad signal abnormalities and blood perfusion using quantitative dynamic contrast enhanced MR (Rianne A. van der Heijden)
Pilot study on Radiomics of peripheral nerves (Federica Rossi)
Characterization of intra-articular fluid using MR T2-relaxation: Accurate and non-invasive differentiation between simple effusion and haemorrhagic effusion in patients with haemophilia (Wouter Foppen)
2017
Accuracy, repeability and multicenter reproducibility and of a comprehensive five-minute MRI scan combining quantitative compositional and semi-quantitative morphological knee OA assessment (Suzanne Eijgenraam)
Fatty infiltration and muscle strength of the iliopsoas muscle after proximal femur fracture with dislocation of the lesser trochanter: Prospective study (Malwina Kaniewska) – an interdisciplinary study, radiology and orthopedic surgery.
The Orthopaedic Team: Dr. Matthias Schenkel, Dr. Karim Eid
The Radiology Team: Dr. Malwina Kaniewska, Prof. Rahel A. Kubik- Huch, Prof. Suzanne E. Anderson
Molecular Lumbar Intervertebral Disc changes in young Patients with functional Scoliosis due to Leg Length Difference at Baseline MR imaging and after specific Spine Exercises (Christoph Schleich)
2016
Ultrasound-guided percutaneous tenotomy of biceps tendon as an alternative to arthroscopic tenotomy in patients (Carmelo Messina)
The effect of anterior tibial translation, femoral tunnel and ACL graft inclination on clinical outcome and degenerative changes (Žiga Snoj)
Quantitative muscle ultrasound as an imaging biomarker for frailty syndrome (Rebeca Mirón Mombiela)
2015
Quantitative evaluation and visualization of spinal nerve roots in patients with lumbar spinal stenosis using advanced diffusion tensor imaging techniques. (Andrei Manoliu)
Piriformis syndrome: A cross sectional imaging study and evaluation of therapeutic outcome (Evangelia Vassalou)
2014
MR T2 mapping to evaluate the effect of ultrasound-guided intra-articular injection of hyaluronic acid (HA) on articular cartilage (Giulio Ferrero)
Follow-up of recurrences of limb soft tissue sarcomas in patients with localized disease: performance of ultrasound (Bianca Bignotti)
2013
Effects of Vitamin D on anatomy, structure and genic expression profile of thigh muscles in the elderly (Alberto Tagliafico)
One-year survey of three different ultrasound (US)-guided percutaneous treatments for de Quervain's disease: a randomized controlled trial. (Davide Orlandi)