Dear ESSR members, friends and colleagues,
As our everyday life has changed the past few months, it is necessary for all of us to adjust to a new reality. The ESSR has traditionally played a pivotal role in MSK education. From my post as Chairperson of the Ultrasound subcommittee, in an effort to adapt to the new circumstances, I have worked on the organization of the first virtual Ultrasound workshop.
The first virtual ESSR Ultrasound workshop is a one-day study that will take place on Saturday, September 26th 2020, based on the program that was planned for the annual ESSR meeting in Stockholm. All that is needed, in order to be part of this virtual experience, is an electronic device and internet connection.
The preliminary program, faculty and registration details are now being announced and it is my pleasure to invite all of you, who are interested in MSK Ultrasound, to participate. This one-day study is addressed to Radiologists and non-Radiologists, Radiographers and students.
The unique nature of MSK Ultrasound requires teaching of practical Ultrasound skills and not only theoretical lectures on Anatomy and Pathology. The structure of the course is designed for this purpose; guiding the delegates from learning basic Ultrasound skills, taught by anatomy demos, to recognizing pathology findings, demonstrated by video demos and state of-the art rapid fire lectures. Furthermore, the delegates will have the opportunity to discuss with our international, distinguished faculty during five, live Q&A sessions.
Virtual education is now evolving and, although challenging in many ways, can create new ways of interaction between the faculty and delegates and a new platform of communication between the ESSR society members. I'm convinced that progress and creativity can be enhanced during this procedure and I encourage all of you to play an active role and enjoy the beauty of MSK Ultrasound in this new era.
I would like to warmly thank the faculty for their prompt and enthusiastic response, the Executive Committee who supported this initiative and the ESSR office for all their work.
Looking forward to "seeing" you all virtually on Saturday, September 26th 2020.
Yours sincerely,
Athena Plagou
ESSR Ultrasound Subcommittee Chairperson
BREITENSEHER BOOK PACKAGE
The special online subscription of the "Breitenseher book package" for only 90€ will enable the access to the following books for a calender year 2020:
– R. Sutter: MRI of the Elbow
– M. Shahabpour, R. Sutter, J. Kramer: MRI of the Shoulder
– J. Kramer, A. Karantanas: MRI of the Hip
– J. Kramer, A. Karantanas: MRI of the Foot & Ankle
– J. Kramer, A. Karantanas: MRI of the Knee, second revised & expanded edition, 2nd English edition, publication Date: March 2020
Log in into your MyUserArea here in order to proceed with the subscription or visit the official Breitenseher website for printed issues.
Upcoming ESSR M.AVATAR Programmes have been postponed to 2021.
More details will follow in Autumn 2020.
ESSR Rostock Sports Imaging Course 2020 goes online
On behalf of the Local Organsiing Committee, we would like to inform you that this year's ESSR Sports Imaging Course cannot take place in Rostock as a face-to-face event because of the Corona Pandemica – a virtual course this year and a face-to-face meeting next year instead (September 3-4, 2021).
ESSR Sports Imaging Course 2021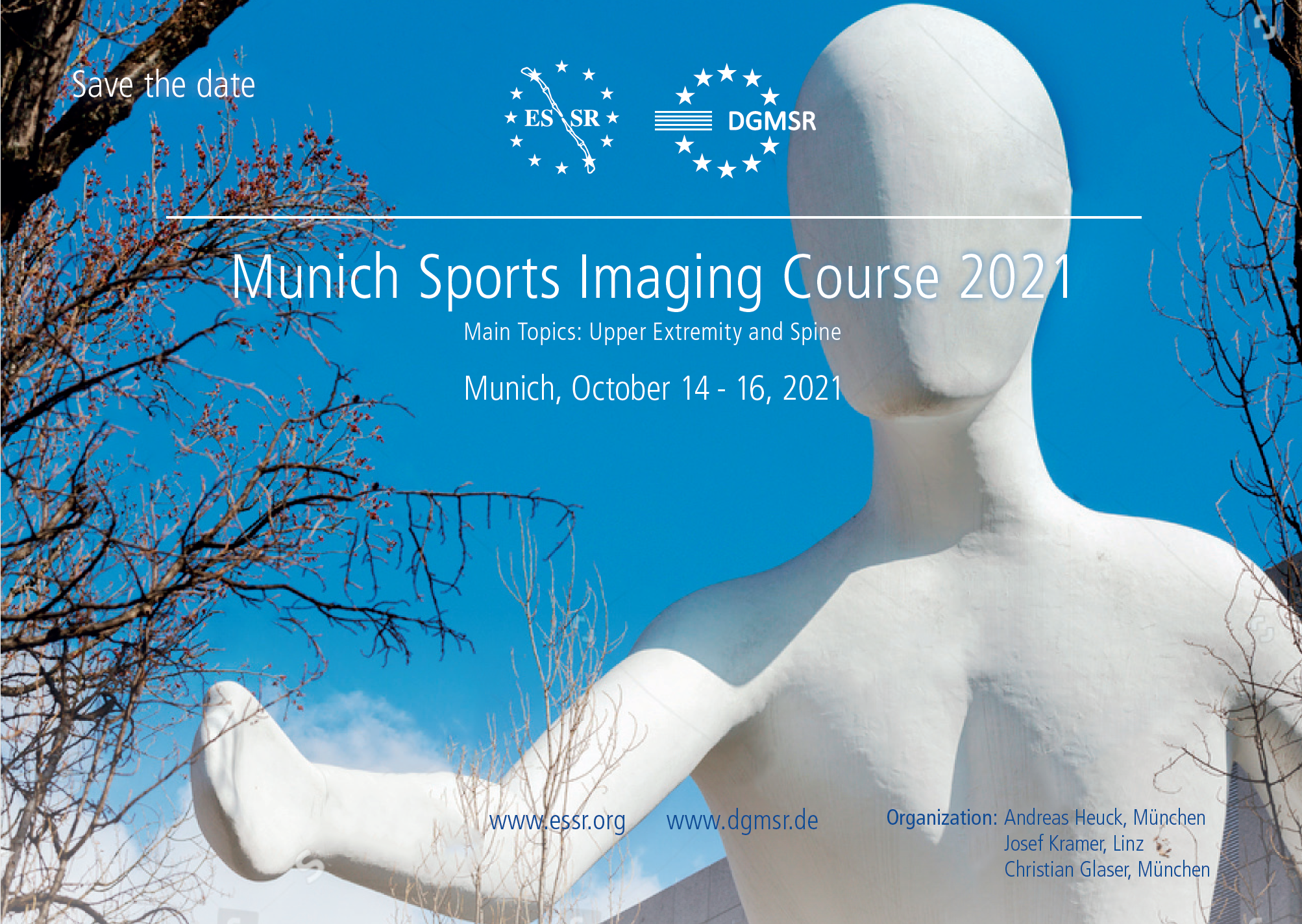 The European Society of Musculoskeletal Radiology